• JOIN MO RED ANGUS
MO JUNIOR RED ANGUS
• Click Here For More Information
• Join MO Jr Red Angus
CLICK TO DOWNLOAD FORMS
• MORAA By-Laws
• Officer & Director Code of
Ethics and Conduct
RED ANGUS ASSOCIATION OF AMERICA
• Click Here for More Information
EVENTS:
• Annual Meeting & Dinner April 22 6:00 PM
• April 23, 2022
Show Me Reds, Springfield, MO
• North American Junior Red Angus Event June 19-25


ANDRAS STOCK FARM
• www.facebook.com/andrasstockfarm

BRICKHOUSE FARMS
• redtieevent.com

BRYAN RED ANGUS
• redangus.sheribryan.com

CIRCLE 5 CATTLE CO.
• circle5cattle.com

Circle 5 Cow School
• circle3cowschool.com/

DIAMANTE RANCH LLC
• diamanteranch.com

ELS Livestock
• www.silverspursalers.com

Glendenning J Bar J Ranch
• jbarjlimousin.com

LACY'S RED ANGUS
• lacysredangus.com

LAMINE VALLEY RED ANGUS
• laminevalleyredangus.com

MC Livestock
• mc-livestock.com

MAPLE OAKS RED ANGUS
• mapleoaksredangus.com

MAPLEWOOD ACRES FARM
• maplewoodacresfarm.com
MASSEY CATTLE
• masseycattle.com

MATTHEWS COACH'S CORRAL
• matthewscoachscorral.com

MEAD FARMS
• www.meadfarms.com

NATIONAL RED ANGUS
ASSOCIATION OF AMERICA
• redangus.org

ORY'S CIRCLE 7 RED ANGUS
• orycircle7.com

ROGERS CATTLE COMPANY
• rogersbeef.com

SHOAL CREEK LAND & CATTLE L.L.C.
• shoalcreeklandandcattle.com

Twin Willow Farms
• twinwillow.net

VETO VALLEY FARMS
• vetovalleyfarms.com


The Missouri Red Angus Association Board of Directors is pleased to announce they will be hosting the first annual Fall Bull & Female Sale on November 14th, 2020 at the Kirksville Livestock Auction in Kirksville, MO.

To accomplish this mission, the Missouri Red Angus Association members strive to:
• Breed cattle with those characteristics that make them valuable in purebred & commercial operations.
• Work together to promote and market Red Angus genetics.
• Welcome all breeders, of any size, to join our organization.
• Continue effective communication amongst all members regarding association events.
---
"NEW ONLINE PAYMENT FEATURE"
* Use the links under our 'Quick Reference' section to join or renew your membership today!
*Advertise in the 2022 Breeder's Directory or purchase an e-Blast below
---
Consign to the Annual Show-Me Reds Sale!
Click to Enlarge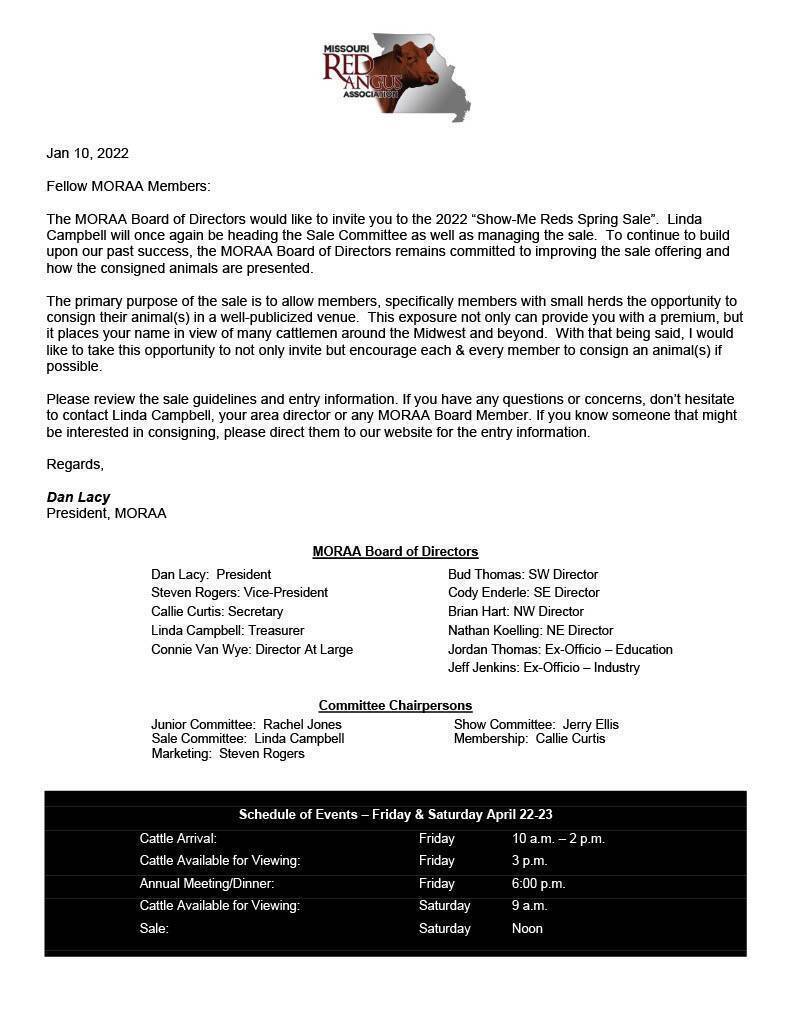 SALE GUIDELINES
ENTRY FORM
CATALOG ADVERTISING FORM
---
New Fescue Belt Certified Program Announced

Click HERE to learn more about the New Missouri Red Angus Association Fescue Belt Certified Program.
---
Show Me Reds
2021 Show Me Reds Sale Report