Paid Members for
2018-2019 Membership
(listed alphabetically by last name)

---
Abele, Cole
Alt, Dennis
Ambrosia, Chuck (Kirksville Livestock)
Armstrong, Darrell
Armstrong, Derek
Arntz, Robert H.
Austin, Bob
Bachman, Scott
Bailey, Gregg, Sandy, and Ashley
Baretich, Tony
Bates, Jason, and Brittni Drennan
Berry, Rusty & Lisa
Berry, William & Kim
Beshears, Nick
Biegel, Darin L.
Boatright, Matt & Jennifer
Breed, Kirk
Bristow, J. Micah
Brown, Glenn & Randy
Bryan, Don & Sheri
Buchman, Rex & Teresa
Buske, Brian & Jill
Calvin, Sarah & Kenlee
Campbell, James & Linda
Curtis, Nick, Callie & Stetson
Dickson, Miles & Patrick
Dierking, Michael, Victoria, & Ryan
Ellis, Jerry and Rachel
Ellison, Kevin
Ellison, Larry,
Erickson, Roger
Felten, Robert & Susan
Fisher, Devin
Freeman, Adam & Amy
Freeman, Roy
Frueh, David
Gardner, Jennifer
Garver, David
Gast, Donald
Gilchrist, Kyle & Lisa
Gregory, Kevin
Gregory, Kurtis & Kella
Hall, David
Hambelton, Manuel & Michael
Harper, Dwight
Haugen, Paul
Havas, Michael & Patricia
Hesseltine, Harald & Kellie
Jacobs, Dennis
James, Dale & Michelle
Jarrett, Jeff
Jess, Mark
Johnson, Brian & Kyle
Karweik, Mike & Kim
Keesaman, Ken, Brenda & Kody
Klinksick, Bill & Stan
Kunkel, Dale
Lacy, Dan
Liebhart, Scott & Stacy
Linthicum, James & Cheryl
Loepker, Brian & Suzanne
Lowrey, Shannon
Martin, Chris & Heather
Martin, E. Scott
Martin, Marcus
Martin, Mercer
Martensen, Rick
Massey, Charles & Kelly
Mathias, Sam & Gina Maddox
Mawson, Rodney, Kay & Mackenzie
McCarty, Pat & Ashley
McCully, Steven & Nancy
Mead, Alan
Mefford, Matt
Meyer, Randy
Meyer, Richard
Meyer, Steven
Miller, Victor & Veronica
Mosby, Brad
O'Bryan, Cynthia
O'Dell, Danny, Sara, Dillon & Carsyn
O'Dell, David
O'Dell, John
Orr, Tim
Ory, Dennis W.
Paslawski, Ray
Perryman, Robert & Gail
Pettit, Jeff & Michelle
Pittman, Frank
Polivka, Christopher
Pope, Robert
Rhodes, Darryl & Susan
Roder, Kyle
Rodriguez, Abel T.
Rogers, Raymond & Nathan
Rogers, Steven & Jamie, Jim Lile
Rule, Ed & Kathi
Sartin, Clint & Veronica
Shields, William
Slayton, Barry
Smith, Mike & Stephanie
Smith, Rick & Beth
Smydra, Susan
Spreutels, Wilbur & Elsie
Stegmann, Andy
Steinbeck, Rick
Sitzes, Brandon
Stumpe, Wayne
Sullivan, John & Jeana
Tapley, Jim
Tipton, Paul & Terry
Thomas, Bud
Vickers, Meredith C.
Vukcevich, Joseph
White, Mike & Jan
Williams, Mark
Williams, Richard & Kathryn



If you have paid your dues and
do not see your name on the list,
please call:
Callie Curtis @ (816) 807-6606


Members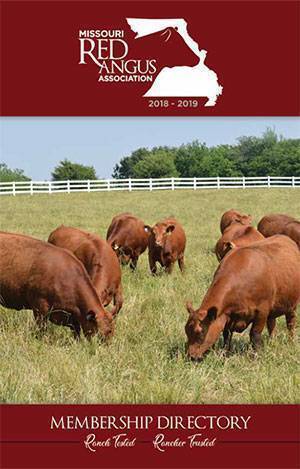 Request a copy of the Breeder's Directory - Contact Info@MissouriRedAngus.com
Be a part of our growing Red Angus program!
Click HERE for the MORAA Enrollment Form.
Membership renewals are due May 1st of each calendar year.


* MORAA Membership is Listed Alphabetically by Farm/Ranch Name
Submit your membership form electronically by clicking HERE

A
Arntz Farm
Robert H. Arntz
P.O. Box 3585
Camdenton, MO 65020
573-347-2207 Home
573-317-7721 Cell
rharntz@gmail.com

Armstrong Red Angus
Darrell or Derek Armstrong
5203 Garrett Road
Rogers, AR 72758
479-631-0473
479-633-2441 Cell
darrellkarmstrong@cox.net

B
Bachman Cattle Farms
Scott Bachman
17520 Hwy JJ
Chillicothe, MO 64601
660.247.1112
www.bachmancattlefarms.com
scott_bachman@yahoo.com

Bar E Ranch
Roger Erickson
14849 W. 33rd St. South
Haskell, OK 74436
918-691-2702
ericksoncattle@gmail.com

Bar R Farms
Kyle Roder
1007 Musky Dime Dr.
Crane, MO 65633
417-236-4820
roder194@gmail.com

Bar U Ranch
Rex & Teresa Buchman
2435 S. 2050 Rd
Burdick, KS 66838
785-497-2904 (home)
620-794-5332 (cell)
brbuchman@gmail.com


Baretich Farms
Tony Baretich
P.O. Box 1015
Belle, MO 65013
Farm Address:
24774 Maries CR 403
Belle, MO 65013
573-201-7767 Cell
tbaretich@gmail.com


Beshears Cattle Co.
Nick Beshears
1184 Hwy MM
Everton, MO 65646
417-234-4069 (cell)
nickbeshears@ymail.com

Black Fork Ranch
Jim Tapley
124 Wilson Bottoms Rd.
Greenbriar, AR 72058
501-679-2993 Home
501-472-9926 Cell
jimtapley@windstream.net

Bois d'Arc Land & Cattle Co
Mike & Jan White
104 Oak Lane
Ladonia, TX 75449
903-450-6236 (Mike)
903-461-1631 (Jan)
janwtg@juno.com

Boot Jack Cattle Co.
Paul Haugen
232 Cedar St
Lewistown, MT 59457
406-366-2855
boojack@midrivers.com

Breezin B Farm
Gregg, Sandy, and Ashley Bailey
1238 McVey
Mt. Vernon, MO 65712
417-466-4210 Home
417-236-3899 Cell
breezinb@sofnet.com

Brickhouse Farms
Dwight Harper
26692 CR 170
Tina, MO 64682
660-622-4259 Home
660-542-4033 Cell
harperdi@yahoo.com
www.brickhousefarmsllc.com

Bryan Red Angus
Don & Sheri Bryan
3200 Harper Rd.
Clark, MO 65243
573-687-3182 Home
redangus@sheribryan.com

Buckeye Farms
Berry Cattle Co, LLC
William & Kim Berry
69 Berry Hill Lane
Tunis, MO 65764
573-317-6229 Cell
berry1993kimber@gmail.com

Buske Cattle
Brian & Jill Buske
7231 S. State Hwy 43
Southwest City, MO 64863
417.262.1498 Cell
Jill.buske@firstcommunity.net

C
Campbell Creek Ranch
James & Linda Campbell
3905 S. 28th Rd
Dunnegan, MO 65640
417-654-2949 Home
417-327-7870 Cell
lin12cam@gmail.com

Cinco R Ranch
Abel T. Rodriguez
2201 Plantation Ln.
Plano, TX 75093
Ranch Address:
9647 U.S. Hwy 82 West
Seymour, TX 76380
214-325-8340
Abel@CincoRCattle.com
www.cincoRcattle.com

Circle 5 Cattle Co.
J. Micah Bristow
HC 64 Box 4490
Marble Hill, MO 63764
573-866-3262 Home
573-208-8125 Cell
mbristow@woodland.k12.mo.us
circle5cattle.com

Circle 5 Cattle Co.
Brandon Sitzes
RR1 Box 163A
Marble Hill, MO 63764
573-741-9027
bsitzes26@gmail.com

Circle C Red Angus
Sarah & Kenlee Calvin
630 S. Dade 1
Golden City, MO 64748
417-388-0185 Cell
417-388-1350 Home
circlecredangus@gmail.com

CR Cattle
Jennifer Gardner
12349 120th
Douds, IA 52551
641-895-4116
coloredcows@gmail.com
www.crcattle.com

Cricklewood Ranch
Rick & Beth Smith
P.O. Box 26
Oldfield, MO 65720
417-634-1251 Home
417-234-2330 Cell
justelizabeth.smith@gmail.com

Crown Reds
Bob Austin
P.O. Box 840
Richland, MO 65556
573-765-4037 Home
573-434-2453 Cell
573-434-2558 Bob Cell
joan.t.austin@gmail.com

D
DCJ Red Angus
Dennis Jacobs
P.O. Box 433
Brookfield, MO 64628
660-734-8009
dcjra48@yahoo.com

Diamante Ranch LLC
Glenn & Randy Brown
16651 Highway V
Diamond, MO 64840
417-325-6292 Home
417-437-1432 Randy
randybrown@diamanteranch.com
diamanteranch.com


Diamond P Cattle Company
Jeff & Michelle Pettit
5745 US Hwy 41 South
Sebree, KY 42455
270-836-2963
jp@diamondpcattle.com
www.diamondpcattle.com

Dichotomy Cattle Company
Mark Williams
P.O. Box 775
Carthage, MO 64836
417-435-2352 Home
479-721-2661 Cell
justin@dichotomycattle.com

Double A Land & Cattle
Dennis Alt & Cole Abele
22286 W. 74th Street
Shawnee, KS 66227
913-558-7966 Dennis
417-684-0881 Cole
dmalt@kc.rr.com
www.doublealandandcattle.com

Double V Ranch
Victor & Veronica Miller
4651 Hwy FF
Halfway, MO 65663
417-445-2328 Home
417-326-9292 Cell

E
Elephant Walk Ranch
Jason Bates & Brittni Drennan
9370 Lawrence 1170
Mt. Vernon, MO 65712
417-616-9000
jason.vff@gmail.com

Ellis Cattle Company
Jerry & Rachel
550 NW 721
Centerview, MO 64019
660-909-6110
ellisjerryd@hotmail.com

Empty Wineglass Red Angus
Rusty & Lisa Berry
33258 US Highway 160
Rueter, MO 65744
785-438-9004 Cell
816-835-1591 Cell
lisaberry1961@yahoo.com

End Of The Road Red Angus
Roy Freeman Jr.
11515 SE 777 Rd.
Collins, MO 64738
417-275-4584 Home
417-770-2847 Cell

F
Follow Thru Farms
Devin Fisher
2478 FR 1170
Verona, MO 65769
417-207-5501
devshell7910@gmail.com

Freeman Family Farms
Adam & Amy Freeman
PO Box 772
Gainesville, MO 65655
417-651-5662 (h)
417-840-2290 (c)
freeamyadam@yahoo.com

G
Garver Farms
David Garver
8160 SE 1300 Rd
Humansville, MO 65674
417-754-8272 (h)
417-860-4340 (c)
cowtown56@yahoo.com

Gast Charolais
Donald Gast
PO Box 181
Nevada, MO 64772
417-321-2184 (cell)
gastcattle@gmail.com
www.gastcharolais.com

Gregory Farms
Kurtis & Kella Gregory
711 N. Lake Dr.
Marshall, MO 65340
660.886.0115 Cell
kkgregory@hotmail.com
www.facebook.com/GregoryFarmsKK

Gregory Family Farms
Kevin Gregory
19620 Houston Rd
Houstonia, MO 65333
660-568-3582 (h)
660-620-3585
gphfhereford@gmail.com

H
Hat Creek Cattle Co.
John O'Dell
11502 N. Farm Rd. 193
Fair Grove, MO 65648
417-759-2161 Home
417-693-3483 Cell

Harmony Hills Cattle Co.
Larry Ellison & Kevin Ellison
1001 S. Pickwick
Springfield, MO 65804
417-838-8772
larry@ellisonliggett.com

Michael & Patricia Havas
195 NW 200th Rd.
Warrensburg, MO 64093
660-909-1162
MPhavas@centerylink.net

Heart of Missouri Farms
Richard & Kathryn Williams
27681 Round Hill Rd.
Tipton, MO 65081
660-433-2541 Home
573-353-3013 Cell
hmfredangusmo@hotmail.com

Hesseltine Cattle Company
Harald & Kellie Hesseltine
6911 Hwy M
Cedarcreek, MO 65627

Highland Red Angus
Miles & Patrick Dickson
52140 Ribbon Rd
Milan, MO 63556
660-265-3155 (home)
660-265-5668 (cell)
660-265-8775 (cell)

I
Idle Wind Farm
Michael & Victoria Dierking & Ryan Dierking
4482 Schoeneberg Rd
New Haven, MO 63068
573-237-2753 (home)
573-680-0235 (cell)
mike_dierking@hotmail.com
www.idlewindfarm.com

J
James Ranch
Dale & Michelle James
338827 E. 950 Rd.
Chandler, OK 74834
405-258-6017 Cell
dljames_ink@yahoo.com

JCL Red Angus LLC
James & Cheryl Linthicum
11874 S. 4430 Rd
Welch, OK 74369
830-431-1859 (Cheryl)
918-533-0445 (James)
jcl@ruralinet.net

Brian & Kyle Johnson
20963 County Rd. 273
Clarksdale, MO 64430
816-667-9200 Home
816-271-3626 Cell

K
KK Farms Red Angus
Ken - Brenda - Kody Keesaman
3803 SW Rogers Rd.
Osborn, MO 64474
816-675-2503 Home
816-390-4988 Cell
ken@kkfarmsredangus.com


Kirksville Livestock
Chuck Ambrosia
PO Box 242
Kirskville, MO 63501
660-665-9804
kirklivestock@marktwain.net

Klinksick Red Angus/Limousin
Bill & Stan Klinksick
9854 SE Co Rd 9526
Rockville, MO 64780
660-200-5584 (cell)
816-520-2025 (cell)

Kunkel Farms
Dale Kunkel
21524 Owl Rd.
Neosho, MO 64850
417-364-8787 Home
417-455-3597 Cell
kunkelfarms@netins.net

L
Lacy's Red Angus
Dan & Kelly Lacy
17246 NW CR 12001
Drexel, MO 64742
913-909-1912 Dan
816-258-2463 Kelly
dan@lacysredangus.com
www.LACYSREDANGUS.com

Lamine Valley Red Angus
Robert & Susan Felten
9747 M. Hwy.
Pilot Grove MO 65276
660-834-3445 Home
660-621-2083 Cell
660-827-1008 FAX
refelten@iland.net

Livestock Nutrition Center
200 W. 11th Ave
N. Kansas City, MO 64116
816-842-6099
amys@LNC-ONLINE.com
www.LNC-ONLINE.com

Littler Red Angus
Nancy Littler
35268 Bell Rd.
Salisbury, MO 65281
660-388-5571 Home
660-651-4510 Cell
nancyloulittler@gmail.com

Lowrey's Red Angus
Shannon Lowrey
11266 S. 425 Rd.
El Dorado Springs, MO 64744
417-296-3229
slowrey5@gmail.com

Lucky M Ranch
Matt Mefford
4702 Shelby 315
Clarence, MO 63437
660-651-5392
luckymreds@gmail.com

M
Maple Oaks Red Angus
Ray Paslawski
1200 Shepard Road
Wildwood, MO 63038
Ranch Address:
#36 Highway A
Tuscumbia, MO
Ray: 314-630-0332
ray@mapleoaksredangus.com
www.MapleOaksRedAngus.com

Maple Oaks Red Angus
Susan Smydra
1200 Shepard Road
Wildwood, MO 63038
314-308-2111 Cell
susan@mapleoaksredangus.com

Maplewood Acres Farm
Matt & Jennifer Boatright
29775 Pony Path Rd
Sedalia, MO 65301
Hm 660-826-1880
Cell 660-281-3538
www.maplewoodacresfarm.com
mboatrig@gmail.com

Martin Red Angus
Chris & Heather Martin
25986 Kohlmyre Trail
Kirksville, MO 63501
660-341-3374
martin5CLG@gmail.com


Martensen Cattle LLC
Rick Martensen
11609 Hwy D
Versailles, MO 65804
573-539-2164 Home
573-378-0859 Cell
valeriemartensen@gmail.com

Massey Land & Cattle
Charles & Kelly Massey
Route 61 Box 851
Cabool, MO 65689
417-962-0181
info@masseycattle.com
www.masseycattle.com

Mathias Farms
Sam Mathias and Gina Maddox
5190 E. Mission Blvd.
Fayetteville, AR 72703
479-790-2900
smathias@mathiasproperties.com

MC Livestock
Nick, Callie & Stetson Curtis
Rodney, Kay & Mackenzie Mawson
17133 NW County Rd. 701
Archie, MO 64725
573-999-3887
calliecurtis12@gmail.com

McCarty Cattle Company
Pat & Ashley McCarty
19171 State Highway 11
Kirksville, MO 63501
660-341-4445 Patrick Cell
pdmccarty78@gmail.com

McCully Farms
Steven & Nancy McCully
18297 Boulder Dr.
Harris, MO 64645
nmccully@smithfield.com

Mead Farms
Alan Mead
21658 Quarry Lane
Barnett, MO 65011
573-302-7011 Home
573-216-0210 Cell
573-348-8325 Fax
meadangus@yahoo.com
www.meadfarms.com

Sac River Land & Cattle
Marcus Martin
6081 N Farm Rd 125
Springfield, MO 65803
417-742-2817 Home
417-655-0968 Cell

Sac River Land & Cattle
Mercer Martin
6081 N Farm Rd 125
Springfield, MO 65803
417-742-2817 Home
417-655-0969 Cell

Sac River Land & Cattle
E. Scott Martin
6081 N. Farm Road 125
Springfield, MO 65803
417-742-2817 Home
417-988-3814 Cell
esmartinxa@gmail.com

Meyer Family Farm
Steven Meyer
27367 Hwy Y
Brunswick, MO 65236
meyerredangus75@yahoo.com

Meyer Family Farm
Randy Meyer
26647 Hwy Y
Brunswick, MO 65236
660-548-3041 Home
660-788-2066 Cell
redangusrandy@gmail.com

Meyer Farm & Feedlot
Richard Meyer
751 Forsythia Lane
Oak Ridge, MO 63769
573-788-2613 Home

MLH Farms
Manuel & Michael Hambelton
3864 State Hwy 181
Gainesville, MO 65655
417-255-4352 (cell)
manuelhambelton@yahoo.com

MK Urich Farms
Mark & Kristi Urich
1161 SE Hwy E
Laredo, MO 64652
660-286-6288 Home
660-359-1047 Cell
mkurich@grm.com

Mosby Cattle Company
Brad Mosby
55 Lenk Rd.
Silex, MO 63377
573-384-5257 Home
636-262-5356 Cell
mosby9113@windstream.net

N
Navillus Red Angus
John & Jeana Sullivan
30434 Highway U
Milan, MO 63556
660-265-7192
660-734-0030 Cell
jsull@shighway.com (Jeana)

O
O'Bryan, Cynthia
6161 Co. Rd. 325
Fulton, MO 65251
573-590-0989
cobryan642@yahoo.com

O'Dell Cattle Company
Danny, Sara, Dillon and Carsyn O'Dell
12594 Liv 422
Chillicothe, MO 64601
D (660) 247-1895
S (660) 973-1144
sara.odell@myfcsfinancial.com

David O'Dell
25342 WW Hwy
Tina, MO 64682
660.322.2413 Cell
Papadave2016@gmail.com

Ory's Circle 7 Red Angus
Dennis W. Ory & JoAnn
328 RT U
Rocky Comfort, MO 64861
417-652-3425 Home
417-839-7205 Cell
joann7@wildblue.net


Ozark Hills Genetics
David Hall
1701 Porter Wagoner
West Plains, MO 65775
417-293-1072 Cell
david@ozarkhillsgenetics.com
ozarkhillsgenetics.com


P
P-Spear Farm
Frank Pittman
24773 E. 5570 Rd
Colcord, OK 74338
620-404-9804 Home
417-483-5952 Cell
pittcrew5_2000@yahoo.com

Robert & Gail Perryman
129 NW 1301st Rd
Urich, MO 64788
660-890-1149 (cell)
Gaprep56@gmail.com

Polivka Farms
Christopher Polivka
2341 39th Rd.
Bruno, NE 68014
402-543-2321 Home
402-367-9679 Cell
capolivka@gmail.com

Pope's Red Angus
Robert Pope
13741 N. 4th St.
Jasper, MO 64755
417-838-6076
popeshoghouse@yahoo.com

R
Rhodes Red Angus
Darryl W. Rhodes
3932 N. Sage Ct.
Maize, KS 67101
316-722-6900 Home
316-648-8310 Cell
RhodesRedAngus2@gmail.com
RhodesRedAngus.com

Rock Pile
Wayne Stump
126 E. Dade 72
Greenfield, MO 65661
417-808-0762

Rogers Cattle Company & Lile Farms Red Angus
Steven & Jamie Rogers and Jim Lile
142 Aspen Drive
Strafford, MO 65757
417-241-1302 cell
srogersbeef@yahoo.com
www.rogersbeef.com

Rogers Ranch
Nathan & Raymond Rogers
18515 US Hwy 65
Princeton, MO 64673
660-748-3612 Home
660-748-6350 Cell
nwrsimms@hotmail.com

S 
Sartin Show Cattle
Pleasant Hill Cattle
Clint & Veronica Sartin
5818 E. Farm Rd. 44
Strafford, MO 65757
417-849-9966 Home
417-880-1374 Cell
clint.sartin@yahoo.com
veronicaparkersartin@yahoo.com


Shoal Creek Land & Cattle
Ed & Kathi Rule
9402 Cameron Rd
Excelsior Springs, MO 64024
816-336-4200 Office
386-717-1827 J.R. Richburg, Cattle Manager
shoalcreeklandandcattle.com
shoalcreekcattle@aol.com

Silver Spur
Scott Liebhart - David Frueh
21743 State Hwy 148
Maryville, MO 64468
660-927-3304
660-562-3481 Scott
660-541-0361 Dave
Silverspurmo@gmail.com

Slayton Farms
Barry Slayton
1904 West Broadway
West Plains, MO 65775
417-293-2214 Cell
barry@slaytonfarms.net

Spreutels Farm Red Angus
Wilbur Spreutels Family
RT. 82 BOX 129A
Koshkonong, MO 65692
417-867-5695
417-280-2552 Cell
wspreutels@centurytel.net

Stagecoach Cattle Co, LLC
Mark Jess
17265 Lober Rd
Weston, MO 64098
816-668-1175 (cell)
Mark.jess@employeerightslawfirm.com

Star G Ranch, Inc.
Lisa & Kyle Gilchrist
14075 120th St
Douds, IA 52551
641-919-1077 Cell
redcowseller@yahoo.com

Stegmanns Brookside Farm
Andy Stegmann
978 Loughboro Rd.
Bismarck, MO 63624
314-486-1928
andy@stegmanns.us

Steinbeck Farms
Rick Steinbeck
2322 Drake School Rd.
Hermann, MO 65041
573-237-2668 Home
573-680-0954 Cell
redcows@fidnet.com

Sunny Springs Farms
William Shields
1248 N. State Hwy T
Bois D'Arc, MO 65612
417-429-7035 (h)
417-708-1403 (c)
bill@3SVentures.com

T 
Tavern Creek Cattle
Jeff Jarrett
120 Groves Rd.
Iberia, MO 65486
573-793-3133 Home
573-286-2137 Cell

6T Farm
Paul & Terry Tipton
18199 Hwy C
P.O. Box 624
Lawson, MO 64062
816-896-8455
terry@northlandsc.org


Triple Oak Ranch
Darin L. Biegel
32361 London Place
Macon, MO 63552
660-385-8537 Home
660-651-3856 Cell
cdbiegel@hotmail.com

Twin Willow Farms
Bud Thomas
3875 N Farm Rd 197
Springfield, MO 65803
417-861-6338 Cell
417-520-0019 Fax
bthomas@infparts.com
twinwillow.net

Ty-Be Farms
Tim Orr
1715 Templeton Loop
Newbern, TN 38059
731-627-2735
731-676-3133 Cell
timjorr@bellsouth.net

V 
Valley Creek Red Angus
Brian & Suzanne Loepker
2135 Krenning Rd
Beaufort, MO 63013
636-221-2952
Valleycreekredangus@gmail.com

Vickers Farms LLC
Meredith C. Vickers
1413 Teagues Road
Seymour, MO 65746
417-859-3810 Home
417-839-6436 Cell

Steve Vukcevich
18735 Hwy D
Clarksville, MO 63336
636-295-5205

Vukcevich Cattle LLC
Joseph Vukcevich
18735 Hwy D
Clarksville, MO 63336
314-452-2087
jvuker@gmail.com


W 


Walnut Springs Farms
Mike & Kim Karweik
1749 128 Ave
Hopkins, MI 49328
269.793.9090 Home
616.293.6019 Cell
walnuts_springs_farms.com


Windrush Farm
Mike and Stephanie Smith
8351 Rangeline Rd. South
Columbia, MO 65201
573-449-1809
573-881-0395 Cell
msmith055@centurytel.net