Advertising on this page is free to
Missouri Red Angus Association Members.
Send your ads to : Info@MissouriRedAngus.com
Missouri Cattle/Livestock Market Reports... click HERE
Available for fall breeding: several age advantaged bulls: semen checked, Sires include Profitbuilder, Declaration, Tyson, Stormer and Commander.
Call for pricing. Spreutels Farm, Koshkonong, MO 417-867-5695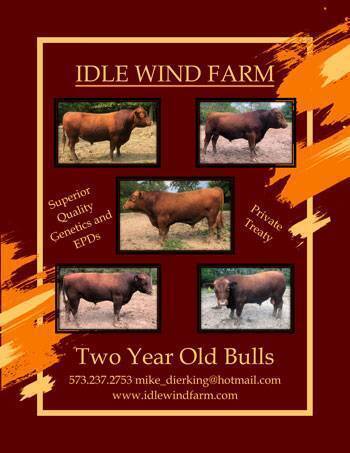 Sires include: LSF Takeback, 5L Bourne, Brown Prestigious
Registrations Numbers: 3767689, 3767693 3767707, 3767715, 3767721
High Calving Ease Bulls
Free Delivery and Fertility Guarantee 1st Breeding Season
Circle 5 Cattle Co.
J. Micah Bristow
573-208-8125

Performance Tested Yearling Bulls Available Now
Sires include Epic, Nexus, Profitbulider, New Direction Son, 5L Advantage Son
Growth Bulls and Calving Ease Bulls Available
$2500-$3000
Videos on Cattle Range and Circle 5 Cattle Co. Facebook Page
Free Delivery~Fertility Guarantee 1st Breeding Season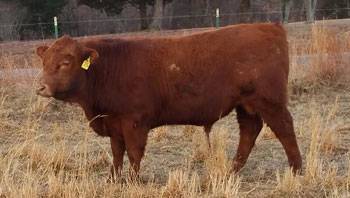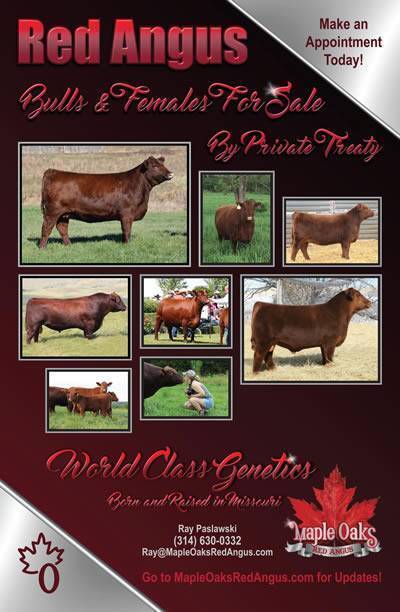 Arntz Farm • Lake Ozarkof the Ozarks, (Camdenton) MO
Bob Arntz
573-347-2207 home or 573-317-7721
cell or email for more info to rharntz@gmail.com
ORYS CIRCLE 7 RED ANGUS • Rocky Comfort, MO
Dennis Ory
417-652-3425 or 417-839-7205 Cell
C-Bar-RJ Evolution 3498984 Sired byC-Bar Evolution 107Y Dam is DaMarMimi W085 one of C-Bars elite donors. great numbers gentle as a dog We used him past 2 years on heifers All calves born unassited. Selling because we have a Redemontion son we want to use. $4000 We also have 10 coming 18 mos ready for spring breeding

Cluck Ranch • Mountain View, MO
R.H. Whitten - 417-247-8299
Bulls for sale
8 months - 6 years old
Commercial and Registered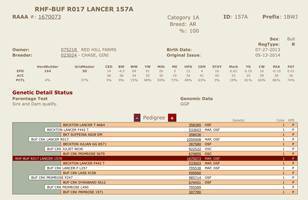 4 year old registered Red Angus Bull. He is slick haired, gentle, and easy keeping - purchased from Red Hill Farms.
Spreutels Red Angus • Koshkonong, MO
Wilbur Spreutels - 417-867-695 or 417-280-2552

Now with 11 Gridmaster awards is offering 19 Registered Age advantaged bulls at the farm by Koshkonong, MO.

Ready for service: semen checked, several calving ease, tracing to Genex Red Angus sires, Pricing from $2850-$3200 this fall. Big, stout Bulls.
Bar R Farms • Crane, MO
Kyle Roder
417-236-4820

3 18 month old Bulls for Sale
6 yearling Bulls for Sale
Heart Of Missouri Farms • Tipton, MO
Richard and Kathryn Williams
573-353-3013

Registered Red Angus Bulls 18-20 months old. Grown on grass with minimal grain. Grown out not fattened out. Several suitable for heifers. Very docile. Also a select group of fall yearling bulls. Handled the same way. Call for any questions. We have raised Red Angus since 1977 and know how our cattle perform on Missouri fescue.
Navillus Red Angus • Milan, MO
John and Jeana Sullivan - 660-734-0030
1. DCJ/BO1 REGISTERED BULL, REG.# 1719342, D.O.B. 01/01/2014

2. DCJ/BO2 REGISTERED BULL, REG.# 1719344, D.O.B. 01/02/2014

3. DCJ/BO4 REGISTERED BULL, REG.# 1719345, D.O.B. 01/11/2014

4. DCJ/BO8 REGISTERED BULL, REG.# 1735686, D.O.B. 01/17/2014
Maplewood Acres Farm • Sedalia, MO
Matt Boatright - 660-281-3538
RED ANGUS, RED COMPOSITE, & POLLED HEREFORD
Yearling Performance-tested Bulls and
Bred and Open Red/Red White Face and
Black White Face females