Advertising on this page is free to
Missouri Red Angus Association Members.
Send your ads to Kelly Massey: kmassey.moredangus@gmail.com
November 19th
Polivka Farms Red Angus And Guest DD Angus
402-367-9679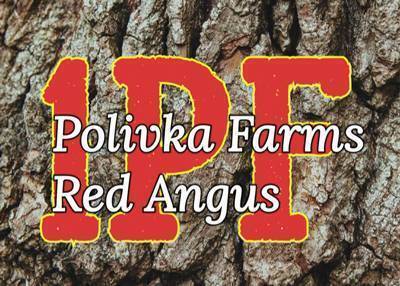 Polivka Farms Red Angus And Guest DD Angus
402-367-9679
Nov 19th on Smartauctions.com
Offering Bred heifers, ET bull calf , pick of top replacement heifers, and embryos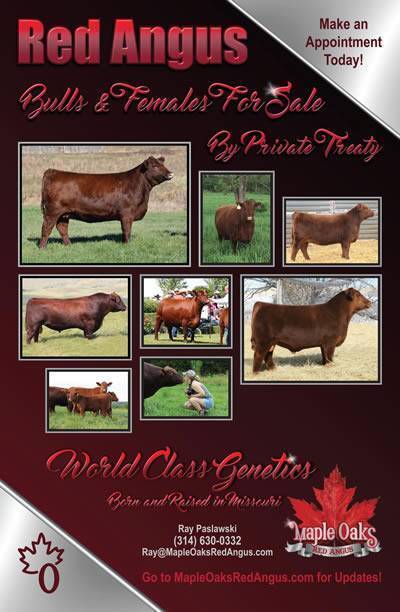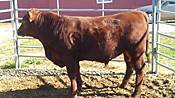 Sakic - October Fall Yearling Bull
Sire: KEK Tank
Grandsire: Conquest
EPD's = WW top 29%, YW top 40%, YG top 5%, REA top 16%
$2250
Mission Statement - September Fall Yearling

Sire: Mission Statement
EPD's = CED top 28%, WW top 36%, YW top 38%, YG top 5%
$2500
Tank - August Fall Yearling Bull
Sire: Red Six Mile Sakic

EPD's = CED top 38%, Milk 43%, YG top 7%, Fat top 5%
$3000
Breezin B Farm • Mt. Vernon, MO
Gregg 417-236-3899 or Sandy 417-766-2380

BBSF Dakota 8D Red Angus registration 3704931
DOB 8/31/16, BW 75, WW 554, YW 1005
Good young Red Angus bull ready for fall turn out. Nice set of EPDs with a great disposition.
Semen tested with satisfactory BSE, had annual vaccinations and fall worming.
Asking $2,500
Cluck Ranch • Mountain View, MO
R.H. Whitten - 417-247-8299
Bulls for sale
8 months - 6 years old
Commercial and Registered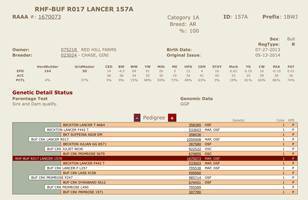 4 year old registered Red Angus Bull. He is slick haired, gentle, and easy keeping - purchased from Red Hill Farms.
Spreutels Red Angus • Koshkonong, MO
Wilbur Spreutels - 417-867-695 or 417-280-2552

Now with 11 Gridmaster awards is offering 19 Registered Age advantaged bulls at the farm by Koshkonong, MO.

Ready for service: semen checked, several calving ease, tracing to Genex Red Angus sires, Pricing from $2850-$3200 this fall. Big, stout Bulls.
Ory's Circle 7 Red Angus
Dennis Ory
home 417-652-3425
cell 417-839-7205
15 Show Quality Open September - October 2016 Heifers 650-800 lbs.
$1500-$2500
Sired by: Redemption #1441805, Ory's TC Sonny #1650284, Ory's BA3K #1736389
Arntz Farm • Lake Ozarkof the Ozarks, (Camdenton) MO
Bob Arntz
573-347-2207 home or 573-317-7721
cell or email for more info to rharntz@gmail.com
For sale, 1 Private Treaty, 24 mos. old (as of 10/2/17) Red Angus Bull. Pharo PCC Grass Genetics. 100% Catagory 1A at $2500. Bull is VIRGIN STATUS and we will guarantee fertility. He has been been raised on grass, hay, mineral and minimal supplementation for slow growth. Raised here in Missouri Fescue country. He won't fall apart. Delivery available.
Link to Bull for Sale on National Red Angus Association. Filter on Missouri.
http://stockyard.redangus.org/bulls

NOTE:

Link to photo of the Bull and more info. Click below.
http://www.cattlerange.com/707C682-201/707C682-201.html
We currently have a good set of breeding age bulls for sale by private treaty. Sires include:

LACY Gold Bar 1120
LACY Legacy 6097
5L Independence 560-298Y
LSF Saga 1040Y
Drop us a note or give us a call for additional information.
Lazy W Farms • Ellsinore, MO
Larry Waddell
573-300-8112
48 Bulls - 2 years old and younger
Averaged 600 lbs at 205 days
$3000 on older Bulls
$2500 on yearling Bulls
Bar R Farms • Crane, MO
Kyle Roder
417-236-4820

2 commercial 18 month old Bulls
3 yearling registered bulls
Reg #s 3524713, 3524707, 3524711
1 commercial yearling bull
5  bull calves 7-8 months old
Heart Of Missouri Farms • Tipton, MO
Richard and Kathryn Williams
573-353-3013

Registered Red Angus Bulls 18-20 months old. Grown on grass with minimal grain. Grown out not fattened out. Several suitable for heifers. Very docile. Also a select group of fall yearling bulls. Handled the same way. Call for any questions. We have raised Red Angus since 1977 and know how our cattle perform on Missouri fescue.
Navillus Red Angus • Milan, MO
John and Jeana Sullivan - 660-734-0030
1. DCJ/BO1 REGISTERED BULL, REG.# 1719342, D.O.B. 01/01/2014

2. DCJ/BO2 REGISTERED BULL, REG.# 1719344, D.O.B. 01/02/2014

3. DCJ/BO4 REGISTERED BULL, REG.# 1719345, D.O.B. 01/11/2014

4. DCJ/BO8 REGISTERED BULL, REG.# 1735686, D.O.B. 01/17/2014
Maplewood Acres Farm • Sedalia, MO
Matt Boatright - 660-281-3538
RED ANGUS, RED COMPOSITE, & POLLED HEREFORD
Yearling Performance-tested Bulls and
Bred and Open Red/Red White Face and
Black White Face females

We currently have a selection of 20 month old Red Angus & Red Simangus bulls for sale